Ethical Practices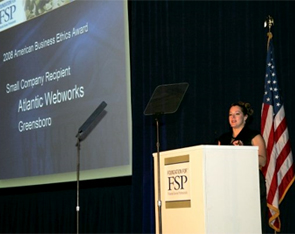 Atlantic Webworks' commitment to ethical practices has garnered national attention. We were presented with the 2008 American Business Ethics Award, sponsored by the Society of Financial Service Professionals, in the Small Business category (defined as companies having 250 employees or less). Other 2008 winners included General Mills, one of the world's leading food companies, and Daisy Brand LP, a mid-sized, family-owned business producing dairy products.

The American Business Ethics Award was created to recognize companies that exemplify high standards of ethical behavior both in their everyday business conduct and in response to specific crises or challenges. An expert panel of judges drawn from the business, academic, public service, media, consulting, and ethics communities evaluates entries in four key areas: executive commitment to ethics, ongoing ethics programming, demonstrated ethical business practices, and commitment to stakeholders—including employees, customers, and the community.
"In these turbulent times, it is heartening to see that there are companies out there who are honestly striving to do right by their stakeholders in ways large and small," said Foundation Chairman Rich Linsday, CLU, ChFC, AEP. "The American Business Ethics Award is designed to shine a spotlight on these efforts in order to provide models for like-minded organizations and to remind the American business community that ethical corporate behavior never goes out of style."
In December of 2007, Atlantic Webworks received the regional Piedmont Business Ethics Award from the Greensboro chapter of the Society of Financial Service Professionals, which also nominated the company for the national award.